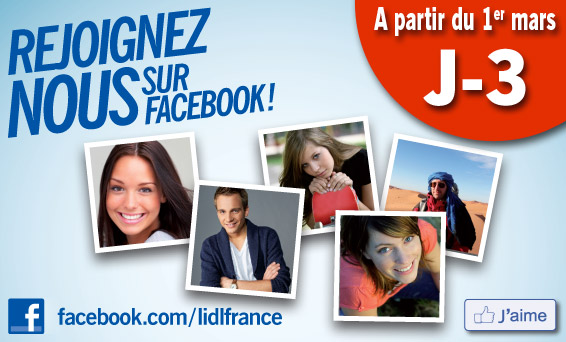 Social medias uses in business and retailing starts to be common. Most of retailers on a fan page on Facebook, and sometimes a
Twitter account
. But today I wanted to write about not a standard retailer, but a hard discount retailer that have decided to communicate on social media : Facebook.
Lidl
is one of the largest retailer in the world. Despite a low cost model, short product ranges and very little advertising, it has been able to spead all around Europe, and (even though they don't communicate their sales figures) it is believed they are in the top 5 ranking of the largest retailers.
Lidl has never communicate much. It is in its strategy. As a hard discounter, its goal is to minimize every cost possible, in order to sell its goods as cheap as possible, maximizing the mergins.
But Lidl has changed over the time, as the hard discount model is starting to go in limbo. They have hence decided last year in France to create a Facebook Fan's page. After one year, they already have 280 000 fans! What is even more impressive, is that they have way more fans than retailers that are at least twice bigger than them in France: Intermarché (200 K), Leclerc (133 K) and Carrefour (the largest one with only 34 Ks).
We must say that a year ago, Lidl has made a large advertising campaigns on its leaflets in order to launch their fan page. But nevertheless, even though they don't communicate that much now about it, the fan community growth pace is still fast.
What does Lidl post on it?
Well, mostly, promotions and products reviews. Clearly they don't have a budget to animate the community, like some other brands have (proposing games, specific discounts, content such as receipes...). Despite the little budget they own (once again there are only two people dealing with the whole Internet presence, which is also encompassing emailing campaigns and the website maintenance), they really bond with the customers, as they have a 10% interaction rate on most of their posts...
Some thoughts about Lidl
Even though Lidl is a concept based on private label, and on proposing no brands, Lidl is not a no-brand, it is actually a strong brand, with which customers bond. This is the reason why they have been able to create such a connection with their community.
Social Media in Lidl Strategy
Lidl is evolving fast, leaving the traditional hard discount concept to a more modern one. Nicolas Calo, the communication manager of Lidl France, declares that the social media investment is part of the overal strategy of the group to modernize their concept. He also adds that "the concept goes more toward modernity and proximity: that is what Facebook is bringing to us: Modernity of communication, and proximity to our clientele".
I find that amazing that Lidl, despite very little budgets compare to its competition, despite a concept that is based on very little advertizing and customer service, has been able to become one of the best success story in the Facebook's retailing world.
What do you think about it?