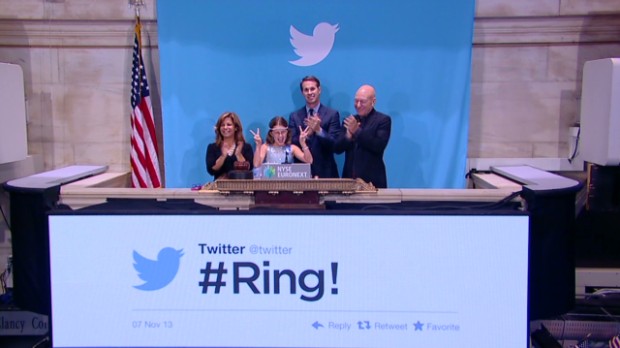 Twitter
's IPO yesterday was a remarkable success.
The stock has spiked by 73% for its first day of quotatation
. There were a lot of questions about how Twitter would do for its first day at the stock exchange market, due to the fact that the company has not achieved yet any profitable years. I wanted to comment a little bit about that news.
I think Twitter's stock is overrated
Of course, we are far from the 2000s Internet buble, investors know how to forecast better the return on investment of such Internet companies. Nevertheless, I may be old fashion about it, but without a consistent business modell, it is difficult to evaluate the worth of a company. Having a company worth $21 billions which is about what a company like Carrefour is worth, which sales for over $130 billion and generates hundreds of millions in results, it is difficult to understand. Obviously Twitter has a large potential of growth, but still, they need to show evidences that they can achieve such a worth.
Twitter's stock spike is understandable
Investors understand that tech companies are in the future the most profitable companies, and the companies that will grow the most. Therefore, in this crisis, having such an opportunity to invest on one of the largest Internet company (in terms of users) is a great opportunity, which is worth to be over paying at the moment. This is the reason why I believe the company had experienced such a great success.
Twitter's stock price is a threat to Twitter
The higher the price, the higher the expectations. Twitter now must be able to deliver proper financial results in order to generate profits to distributes to its shareholder. Has Twitter's business modell evolved dramatically those past few months to achieve profitability? In my opinion the answer is no. Now Twitter has financial results to invest, but they need to accelerate their sales and revenues.
Twitter will remain in the long term.
Despite the fact I am still questionning Twitter on its business model, and I don't see yet how the company would generate profits in the next 2-3 years, I believe Twitter will remain. The service has changed the life of millions of people, the idea is great, and the service work. I don't believe that people can now live without Twitter. I also believe that Twitter has achieved to get such a high number of users that no real competition would be able to do so. Now the question is how Twitter will evolve. It will be interesting to see, but now that Twitter is a public market company things will move fast.